Tuesday, 28th November
A massive congratulations to all our wonderful friends and members who have now graduated from Liverpool John Moores University.
Over the past year, First Thursdays have been brightened by the attendance of so many students – and they have brought a real vibrancy to our networking.
Well done to you all, and we are certain that wonderful careers await you in the shipping and maritime industries.
One of the former students, Charlotte Morton, has written about the impact of the Propeller Club, and the effect of networking in First Thursday – we thought we would share this with you, as it captures the essence of everything that Propeller Club Liverpool stands for.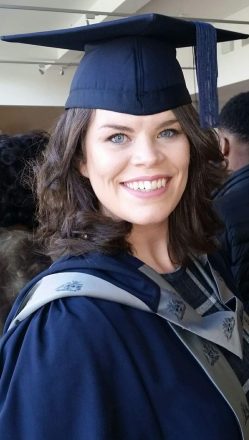 Charlotte says, "I am so pleased and proud to say that I have passed the MSc Maritime Operations Management course through LJMU.  Following the completion of the Bachelor of Laws through the Open University, I had initially set my sights on a career as a shipping solicitor, however, I decided that this was not the career path I wanted to go down and started looking for postgraduate courses, and quickly decided that the MSc was the course for me. 
Once on the course, all the students were invited to a Propeller Club 'First Thursday', and I am so pleased I went.  It was great to be able to speak to people in the shipping industry during the evening.  Although I collected quite a few business cards, it didn't feel like a traditional networking event as everyone I met was lovely, encouraging and seemed genuinely pleased that LJMU students were there. 
After deciding that cybersecurity was a topic that I wanted to research for my masters' dissertation, I contacted a couple of the members of the Propeller Club asking for advice in relation to cybersecurity and was advised of the Be Cyber Aware at Sea campaign website.   The website provides a wealth of guidance and awareness advice regarding cybersecurity in the maritime industry and was truly instrumental in providing me with the background knowledge I needed to start my literature review research. 
As with any dissertation, primary data is gold, and I am very pleased to say that the people I contacted through the Propeller Club and DNV GL very kindly completed my primary data questionnaire.  This shows how genuine the people I met were, and I would advise that if you are a student in the shipping industry, join the Propeller Club, even without completing my primary data questionnaire, the members are wonderful, and the First Thursday's are always good nights."
A massive thank you to all the LJMU students who have, and who attend our events – we are so pleased to welcome you.