Thursday, 7th October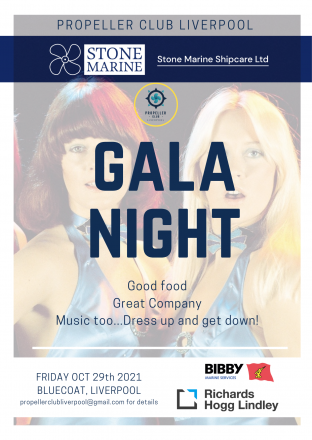 Mamma Mia, can you hear the drums Fernando? With us all locked down, there was no chance to be a Dancing Queen, but with people clamouring for events and it being all Gimme! Gimme! Gimme! I Have a Dream, and I'm willing to Take a Chance. So When All is Said and Done, the Winner Takes It All as I will be looking to lay all your love on me. Though I will (of course) be asking Does your Mother Know.
The Name of the Game is that people have put out an SOS, and so long as get enough Money, Money, Money, then there will be no Waterloo, just a great time.
I Still Have Faith in You, so look into my Angeleyes and be a Super Trouper, and let's make it happen and you can be One of Us. Which let's face it, Knowing Me, Knowing You what could possibly go wrong, so put down the Chicken Tikka and get ready for the night of your lives!
Book now https://www.eventbrite.co.uk/e/voulez-vous-gala-dinner-tickets-184277598257
With grateful thanks to our sponsors:
Platinum – Stone Marine
Gold – Bibby Marine Services
Silver – Richards Hogg Lindley