Thursday, 21st March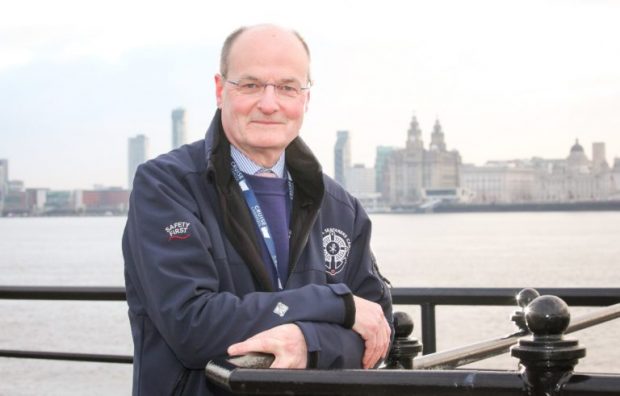 As a sign of gratitude to visiting seafarers Liverpool Seafarers' Centre (LSC) is planning to extend its network across Merseyside so that it can serve 10 to 20 per cent more seafarers each year on average.
LSC delivers a wide variety of practical, emotional and spiritual work. It often steps in when there are 'major life events' such as a family bereavement, trauma, marriage, divorce or birth of a child. It acts as a go-between and can talk to the ship management company if there are problems to ensure seafarers are being properly cared for. On a practical level LSC provides a variety of support including access to WIFI, money exchange and a physical base on land where crew can take a break from the vessel.
Another key role involves ensuring the Port of Liverpool and the maritime industry on Merseyside maintains its reputation as a friendly caring port. It is one of the few port cities to have a seafarer welfare centre in a cruise terminal. This makes all the difference to the crew, who would otherwise struggle to find the time to travel to outreach centres. Liverpool is now leading the way in offering support to cruise ship crew.
In order to realise its ambitious expansion plans LSC is set to expand its entire operation with more volunteers and salaried staff. The aim is to extend support to an even greater share of the 50,000 seafarers passing through the Port of Liverpool each year. LSC is eyeing up locations along the River Mersey including Garston Dock, operated by Associated British Ports (ABP). Negotiations are currently underway to secure a lease agreement for space at Garston Harbour Office to kickstart the initiative after securing internal funding.
Ports like Garston often receive smaller cargo ships carrying goods and material like grain and cement. However, there is limited local infrastructure and amenities for visiting seafarers. By opening specialised hubs across more locations we can maximise the support we deliver. Crew are frequently on very quick turnaround times with limited time for shore leave. The new facilities will cut down on unnecessary travel and enable seafarers to fully relax outside the confines of the ship in a friendly welcoming environment. The hubs will follow the model of our Liverpool and Wirral bases offering all manner of practical and emotional support.
Liverpool's first seafarer outreach work began with the Anglican Mersey Mission to Seafarers founded in 1856 and was later followed by the Catholic Apostleship of the Sea (Liverpool), founded in 1937. LSC as we know it today is the result of a successful partnership between the two organisations.
The merger followed in the footsteps of Liverpool Bishops' John Worlock and David Sheppard who famously worked to overcome deep religious divisions between the Catholic and Anglican communities during the 70s and 80s. The Mersey Mission and Apostleship had previously worked in competition with one another, running small satellite centres including operations in Runcorn, Birkenhead and Salford. The new formation enabled the two organisations to pool resources and create a more coordinated seafarer outreach program.
Today LSC runs two centres on Merseyside – in Crosby and Eastham – which also serve the Manchester Ship Canal. While service delivery has evolved over the years, the mission has never changed and remains firmly focused on providing 'a lifeline' to seafarers, both active and retired, offering a safe and secure place to rest and also receive practical and emotional support.
Liverpool has a reputation for being one of the friendliest and most welcoming cities in the world to seafarers. The visiting seafarers are mostly from third world countries like Bangladesh, Indonesia, India and the Philippines. They are bread winners and spend their lives working away from their families just to send money home. With such a tough life it is vital they have a friendly person they can turn to, to offer confidential support, in case they have difficulties either on ship or at home.
While LSC offers a lot of practical help such as access to WIFI and money exchange it is also there for more serious matters. Last year, for example, it provided extensive support to a crew member who needed urgent hospital treatment. LSC arranged for the treatment to happen and organised transport and overnight accommodation at our Crosby centre and we undertook the paperwork for their travel home.
In another instance LSC helped a group of nine international sailors who were left stranded on the Mersey for almost three weeks to return home safely. The crew members were on the Panama registered cargo vessel Seccadi which was detained by the Maritime & Coastguard Agency due to conditions on board. It was given a layby berth in Ellesmere Port, while crew remained locked in dispute with the vessel's owner over pay and conditions. LSC supported by notifying HMRC's Immigration Department at Liverpool John Lennon Airport. This crucially enabled the seafarers to secure a 'Notice of Leave' pass allowing shore time under controlled conditions to find a resolution. The charity arranged for the seafarers to be picked up from the ship and driven to its Eastham facility on the Wirral, allowing respite from the situation. The crew were later repatriated at the ship owner's expense.
The working life of a seafarer is hard and at times dangerous. Seafaring can be a lonely and isolating job and crew frequently do not have the support they require. LSC aims to exercise core Christian values of love, care and respect through its outreach work. It also aims to show seafarers from around the world that Merseyside cares and understands the challenges they face. Around 95pc of everything we consume in Britain is transported by sea and we rely on the silent invisible army of brave men and women who crew ships to support our economy and way of life. LSC's work is really a tribute to that silent workforce and a way of saying thank you.
John Wilson is CEO of Liverpool Seafarers Centre, he oversees the delivery of a wide range of practical and emotional support for the Port of Liverpool's visiting seafarers