Tuesday, 28th April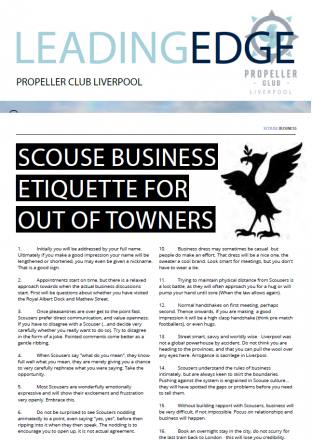 Prompted by the excellent series on business do's and don'ts for different cultures, posted by Kate Bollanou on Linkedin, we thought that people could benefit by understanding how to do business in Liverpool. We are expecting many people to be making their way here in the coming months, so what better time to help guide them to success. 
Initially you will be addressed by your full name. Ultimately if you make a good impression your name will be lengthened or shortened, you may even be given a nickname. That is a good sign.
Appointments start on time, but there is a relaxed approach towards when the actual business discussions start. First will be questions about whether you have visited the Royal Albert Dock and Mathew Street.
Once pleasantries are over get to the point fast. Scousers prefer direct communication and value openness. If you have to disagree with a Scouser (…and decide very carefully whether you really want to do so). Try to disagree in the form of a joke. Pointed comments come better as a gentle ribbing.
When Scousers say "what do you mean", they know full well what you mean, they are merely giving you a chance
to very carefully rephrase what you were saying. Take the opportunity.
Most Scousers are wonderfully emotionally expressive and will show their excitement and frustration very openly. Embrace this.
Do not be surprised to see Scousers nodding animatedly to a point, even saying "yes, yes", before then ripping into it when they then speak. The nodding is to encourage you to open up, it is not actual agreement.
There is immense civic pride in Liverpool. So do not criticise the city. Talk of how much it has changed in the past  decades, of how busy and vibrant it seems.
You don't have to be Red or Blue, you don't even have to like football. But you have to like something! If you just say you don't like football and leave it there, Scousers will think you are odd. If you then talk about what you are really interested in this will be accepted and welcomed.
Liverpool has a strange relationship with The Beatles, do not assume people like them. They do deep inside, but often like to remain aloof. You will see this when you are drinking with them on Mathew Street and they are belting out Yesterday.
Business dress may sometimes be casual -but people do make an effort. That dress will be a nice one, the sweater a cool brand. Look smart for meetings, you don't have to wear a tie, but you should look like you try!
Trying to maintain physical distance from Scousers is a lost battle, as they will often approach you for a hug or will pump your hand until sore (When the law allows again, and COVID-19 passes).
Normal handshakes on first meeting, perhaps second. Thence onwards, if you are making a good impression it will be a high clasp handshake (think pre-match footballers), or even hugs (See point 11).
Street smart, savvy and worldly wise – Liverpool was not a global powerhouse by accident. Do not think you are heading to the provinces, and that you can pull the wool over any eyes here. Even trying will get you into trouble, arrogance is sacrilege in Liverpool.
Scousers understand the rules of business intimately, but are always keen to skirt the boundaries. Pushing against the system is engrained in Scouse culture… they will have spotted the gaps or problems before you need to tell them.
Without building rapport with Scousers, business will be very difficult, if not impossible. Focus on relationships and business will happen.
Book an overnight stay in the city, do not scurry for the last train back to London – this will lose you credibility.
Winning business with Scousers will take repeated visits to the city. Do not expect to land a deal on first meeting.
Not everyone one in Liverpool is a Scouser. You will meet Liverpolitans too, and Wirralians. Occasionally there are
Mancs, the Cheshire set and even woolybacks (Lancashire) too. Spot the differences and celebrate them.
Remember, you are welcome here – there are great opportunities with wonderful businesses and amazing
people.
Arrange your business meetings for a First Thursday of the month, and then in the evening you are guaranteed
amazing networking with Propeller Club too.
The guide appears as part of our magazine Leading Edge – Read more inside: https://issuu.com/swell_yeah/docs/leading_edge_propeller_club_liverpool_spring_summe