Monday, 2nd May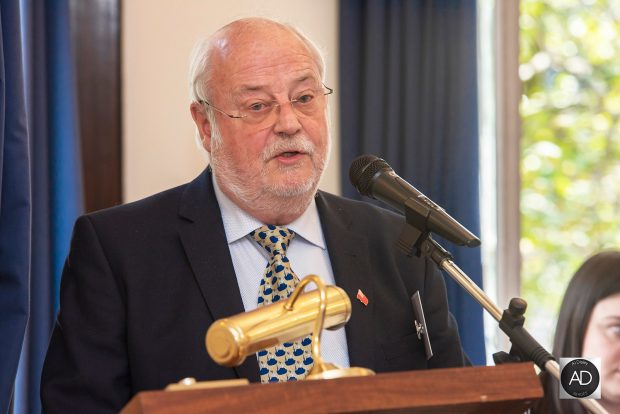 After a couple of lost years, it was wonderful to finally be able to host a Propeller Club lunch once again. This time at The Athenaeum in Liverpool, we welcomed a full house of over 100 guests to hear from Captain Kevin Slade, Chair of Britannia Maritime Aid (BMA). We are so grateful for Captain Slade's patience, and that we were finally able to meet and allow the amazing vision of the organisation to be heard.
BMA is a UK charity which aims to deliver emergency aid and ocean advocacy while also training a new generation of seafarers. The intention is to operate a British-built and flagged merchant ship, manned by UK and Commonwealth seafarers, which will operate as a disaster relief platform and a sea-training vessel for cadets, apprentices, and non-seafaring trainees.
It will provide an effective and regular means of directly delivering UK overseas humanitarian aid and skills training on a year-round basis to UK overseas territories communities in need, and when required to provide direct, fast and cost-effective emergency response to disaster hit islands and coastal commonwealth countries.
The unique BMA ship design, specifically produced by ship design experts and consultants Leadship, is designed to handle roll-on/roll off wheeled cargo, containers and pallets and can deploy landing craft to deliver aid across a beach.
Designed around a standard RoPax hull each vessel can carry over 200 emergency personnel and offload up to 2000 tonnes of vehicular, container and palletised Aid cargo in remote areas by means of landing craft and self-supporting stern and side ramps. It is designed to have flexible accommodation for crew and 200+ persons including Cadets, Trainees and VIP's and can support helicopter, drone and UAV operations.
Equipped with technically advanced energy-efficient machinery, the vessel is designed to be able to take advantage of future green technology development and become ever more environmentally efficient throughout its lifetime. While no decision has yet been made on fuel options, these will be not only compliant but industry leading too. A chance for the trainees onboard to work with the latest propulsion and fuel options.
The multi-role vessel design has an LOA of 135m, a Breadth of 23.4m and a Draft of 5.2m. It has a speed in excess of 18 knots and a range of more than 6000 nm. It can remain on station unsupported for 21 days.
The members of the Propeller Club Liverpool were enthralled by and hugely supportive of the proposal. A number of industry connected guests promised to take this cause further, and said they were willing to make representations to the UK government to get this proposal moving forward.
For more details visit the BMA website www.Britanniamaritimeaid.com
A special thank you to Hill Dickinson, for sponsoring the event and our after lunch networking. https://www.hilldickinson.com/