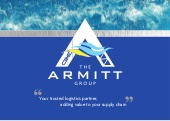 Monday, 13th June
Our good friends at The Armitt Group are looking for an experienced Ships Agent to join our Agency and Chartering Team on a permanent basis.
The successful candidate will have knowledge of the Shipping Industry and Dry Bulk Cargo and Port Operations, looking to join a progressive shipping company. As a Ships Agent you will travel to a number of ports boarding vessels, handling operations, dealing with stevedores and service providers, as well as the vessels husbandry requirements. Within the Chartering Team, you will be responsible for a commodity area commensurate with your experience.
You will need to demonstrate excellent time management capabilities and attention to detail, good customer facing and communication skills as you will be boarding vessels dealing directly with the Master & senior crew as well as cargo shippers and receivers.
Candidates must be able to manage their own time as you will be required to collect/issue important shipping documentation when both boarding vessels and in the office. This is a 24/7 business and candidates will need to be flexible with hours and be committed to travel due to the servicing of vessels and clients outside of the Mersey area.
The successful candidate will be working as a part of our chartering team with full scope for career progression. A full UK driving license is required, remuneration package would be dependent on experience.
Please send your CV and covering letter to Careers@armitt.co.uk.