Friday, 28th April
Propeller Club Liverpool recently gathered to lunch and network in the city. April saw us convene in the sumptuous surroundings of the Racquet Club, a place that is increasingly feeling like home from home. Once again it was another sell out success – as over 70 members and guests enjoyed a wonderful lunch and networking drinks, kindly sponsored by Lloyd's Register.
This time round there was even more to pack into a busy schedule than normal – as we had official business to attend to. The President's term of office has been held for two years, and so our Charter Party anniversary saw a passing of the baton to a new team at the head of our officers.
After guests gathered for welcome drinks, we were seated and Jim Bellew got the event started in his usual inimitable style. Welcoming those who had come from far and wide, and near and narrow. There were a number of new faces at the lunch, and many who had travelled just to join in the fun. Which for an auspicious occasion like the changing of our guard was particularly welcome and important.
We even had guests from three of the four biggest shipping companies in Liverpool, with Bibby Marine, CMA CGM and Maersk Line in attendance. Which is great news, and thank you so much for coming along. Jim said his hello, but it was also something of a goodbye – as he has now stepped down as President, to become our first Past President. He officially handed over to Steven Jones, who will now serve for two years also.
In thanking the members and guests, Jim stressed just how far the group has come in the past few years. It seems just a short time ago when 8 people gathered in McGuffies to find out what maritime networking in Liverpool was all about. My how things have changed.
Steven, thanked Jim for his time at the helm, awarded him a prize to mark his term of office and thanked him for the effort he has put in, the reams of paper produced on planning and the many ideas and visions he has brought to the table. After lunch was served, a delicious repast of chicken followed by chocolate then it was back to business. Steven spoke again, this time about the his pride at becoming President, and his gratitude to the friends and members of the Propeller Club who had done so much to support him through some trying times in the past year.
Then it was on to our main speaker. This time around Sean Moloney or Elaborate PR and Ship Management International was on hand to talk about another hat he wears…London International Shipping Week. Sean spoke about the events which will be held in London, and of the many opportunities which were there for companies from Liverpool to grab with both hands. It was stressed that Propeller Club is well placed to assist, and so it is a massive benefit to our members to be able to have such direct links to a prestigious event.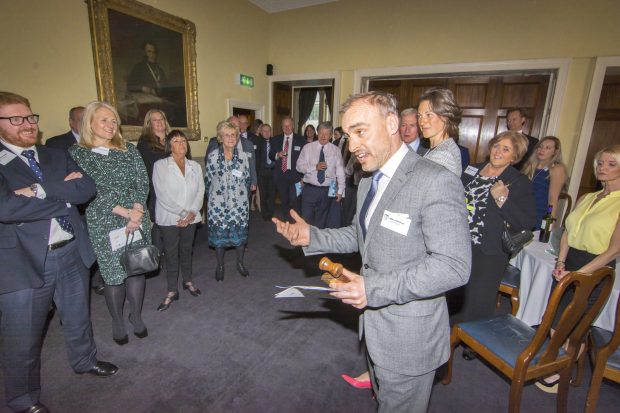 Then we had the first Propeller Club prize giving, with the #Chennai6 guards recognised for their bravery – and their award was accepted by one of their sisters, Lisa Dunn who thanked the club for its recognition and generosity. With very few dry eyes left in the room, we then went to our post lunch networking thanks to Lloyd's Register's generous sponsorship.