Monday, 8th April
Friday saw yet another splendid afternoon and evening of merriment and goodwill as everyone that makes Propeller Club Liverpool so special gathered at The Racquet Club for our lunch, kindly sponsored by Sharples Group.
It was an afternoon of transition and thanks too, as Steven Jones completed his two year presidency, handing over to Adam Whittle. In thanks for his wonderful service, Steven was awarded a token of the club's appreciation.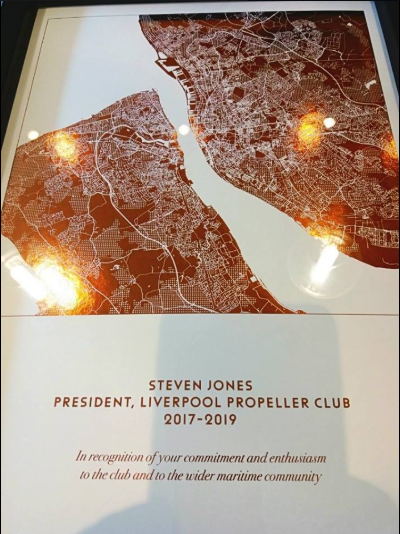 Speaking of his time in office, Steven said, "To be involved in the Propeller Club is a source of immense pride and personal satisfaction. The Club serves to bring people together from across the maritime industry, and we support a range of good causes too."
"That great people can come together to achieve wonderful things, and all while having a good time – that feels just perfect. Serving a President has been a real honour, and I hope that my time has helped propel the club further, and to help us have an even greater positive impact."
Elsewhere, Dr Robyn Pyne of LJMU became the recipient of our 2019 Maritime Ambassador of the Year in recognition of the wonderful work to bring students and industry together. Dick Welsh and Colin Kershaw were also awarded the Propeller Club Maritime Personality of the Year 2019.
---
We just wanted to say a big thank you to everyone who came along on Friday for what was a great occasion. Until next time!
In the meantime, take a look at the wonderful photos from Friday below.
Photo credit: Al Disley