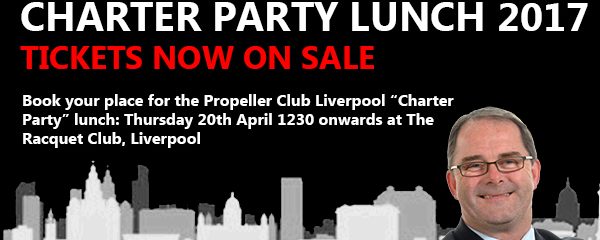 Thursday, 20th April
Propeller Club Liverpool is pleased to announce our  annual "Charter Party" lunch. An event which celebrates the charter of our group with the International Propeller Club of United States of America.
This year our keynote speaker is Sean Moloney, MD of Elaborate Communications and Editorial Director of Ship Management International. Sean is also a Director of Shipping Innovation Ltd, the organisers of the London International Shipping week.
With London International Shipping Week (LISW) 2017 launching in September, Sean will talk about how businesses in Liverpool can make the most of the opportunities which are coming – and of how they can make a real splash. As Brexit beckons, he will give the inside track on how to turn potential opportunities into reality. LISW this year is set to be even bigger and more pivotal than ever before – and we are looking to assist members with making the most of it.
The Charter Party Lunch also marks the historic end of our First and Founder President's term of office. So join us to say thank you to Jim Bellew.
Tickets include, Welcome Drink and 3 Course Meal with Wine.
BOOK NOW https://goo.gl/FVEY5m